Creating Connections
With UnionCloud you can manage your entire digital presence with ease. Supercharge every interaction with sharper strategies, having harnessed the power of data.
Easily run your elections, create/manage clubs and societies and target specific students with powerful dynamic user groups.
Thanks to our historic link with NUS; UnionCloud is built in such a way that all staff can manage online tasks and resources extremely easily, no matter what level their IT skills are.
A robust digital membership hub; easy to track student engagement and manage all your services online seamlessly
Develop the support you offer to students with limitless easy to use integrations, supported by us
Access and freedom to design a truly bespoke site independently or with our support
A first class election system with proven high voter turnouts and student engagement
A support team dedicated to delivering you the best support and service in making the most of the UnionCloud product
Help students participate in college life and support their community through Group memberships, event tickets and Volunteering
Grow the presence of your students' Union/Association through articles, connecting with your social media and communications
A Student Reps System at your fingertips via Digital rep, ideas & petitions and elections
A support team dedicated to delivering you the best support and service in making the most of the UnionCloud product
Effectively manage memberships and track user engagements, great for impact reporting
Keep members up to date with latest updates, through articles and resources
Expand with sub sites to link, but separate any other arms of the charity or business
Ability to gain feedback and ideas from members with evoting functionality
Ability to enable members to manage and maintain their own groups with their own chat feature and configurable access to manage their own CMS
Expand your member offering with, e-ticketing for events, online merchandise through an eshop and volunteering opportunities
Managed Elections, take the hassle out of the count
Maybe you're not ready for a full membership solution right now or it's a little out of budget, but you want your elections to run smoothly, both for the students and your staff.
We're introducing access to our world leading voting platform and associated support to help you have the smoothest election yet.
Why not see how little it might cost for peace of mind?
Example base cost for an election
This is based on standard pricing for a typical H.E. if your situation differs why not reach out.
5000 voters
1k
6k
11k
16k
21k
26k
31k
35k +
Case Study: Bristol Students' Union
We've been using UnionCloud at Bristol SU for almost six years now and we've always been very impressed by the how powerful and easy to use features like elections and usergroup segmentation are.

Our favourite bit of functionality though, is the ability to link student data to other platforms like Airtable and Webflow using Integromat and UnionCloud's API. Using this we've been able to massively improve SU services for our students.

Andy Page - Bristol Students' Union - March 2022.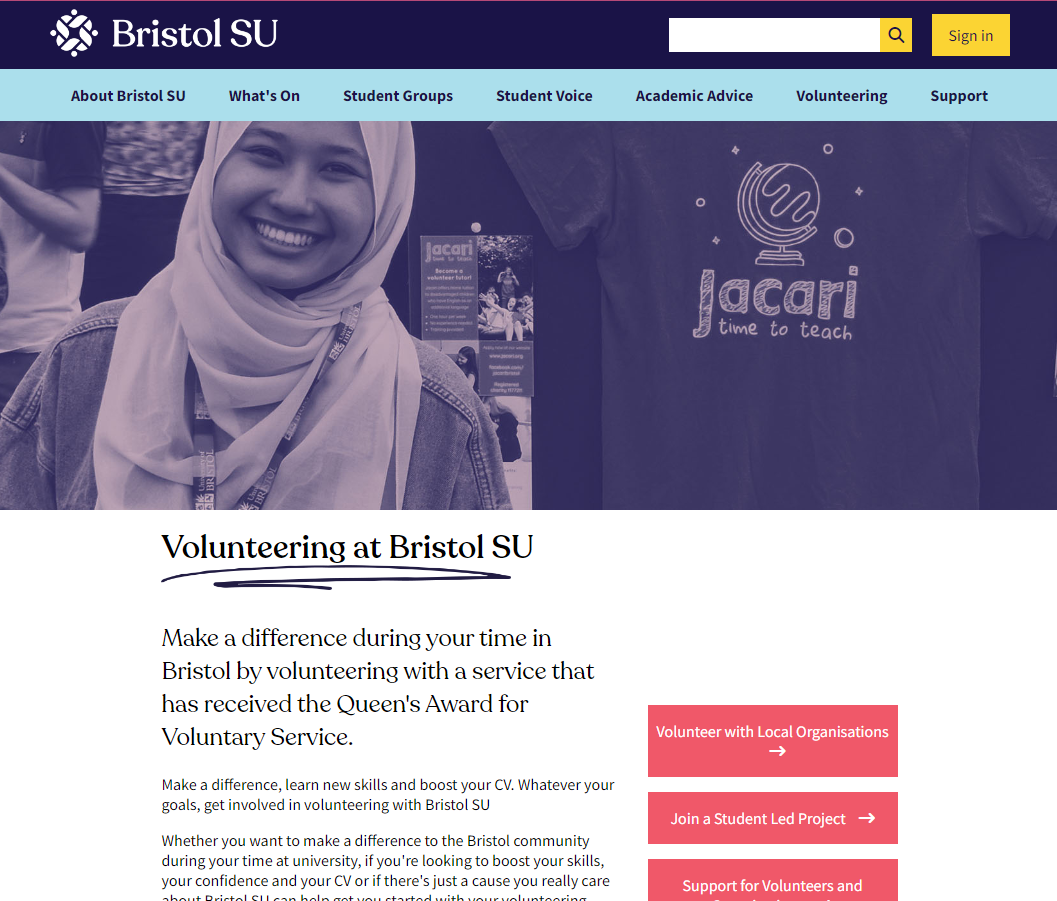 UnionCloud Features
Elections
Run every one of your elections online, efficiently and effectively.
No matter what type of election it is; course representatives, NUS delegates, officers; manage categories, positions and the event itself from one platform.
Before voting even begins, guarantee every stage runs smoothly with the help of this tool. Promote elections and schedule automated email reminders for students to ensure good turnouts. Set parameters to ensure only the relevant people are voting. Monitor live statistics anywhere, anytime. And once voting is over, assess the results.
Clubs & Societies
Manage hundreds of groups, clubs and societies in an intuitive and simple way.
Give societies the power to manage and update their own webpages. Or retain full control of this for yourself – manage membership in a way that's tailored to you and your organisation.
Allow clubs and societies to create subsites that'll broaden your site's appeal and enrich the digital experience. Using these subsites they can then add their own content, post announcements, share news, list events, sell tickets for these and email their members.
Giving your students the content they crave and connecting with them has never been simpler.
Website Builder
Build and manage an effective and mobile-friendly site that reflects you with ease
From front end drag-and-drop editing to back end design and development, this user-friendly, flexible tool makes keeping everything up-to-date simple.
Even those with minimal digital expertise will find uploading content, creating subsites, adding pages, links and widgets straightforward. And for those with more experience, editing in HTML is also possible.
Student Voice & Representation
Discover what students have to say instantly
Create an online space for them to put views forward, start petitions and support the issues they consider important.
Give power to course reps with Digital Rep, so they can manage course feedback directly with students.
With these tools you have the opportunity to connect with and realise your students' visions. It's up to you how you use this connection to achieve goals.
Events
Flexible ticketing options that can be adapted for all events and spaces
Promote events, schedule sales and sell tickets. Set up multiple ticket types for a single event. Schedule start and end dates and times for when these go on sale. Limit availability according to capacity. Produce tickets that can be redeemed with a barcode. Configure questions that'll help gather extra data when a student selects an event.
And pull all this data into reports that can be tailored, making monitoring events, measuring success and developing future strategies simpler.
Email Marketing
Connect digitally with students in a way that's simple and smooth
Create your own emails using basic text or HTML. Set specific criteria to identify suitable recipents, ensuring your mailing lists target relevant audiences with tailored communications.
After sending a communication, gather data – emails sent, delivered, bounced, opened, clicked etc. – to help measure success and assess potential areas for improvement.
Volunteering & SkillS
Seamlessly connect students with ways to learn new skills.
Enable external organisations to register with your institution and identify skill areas they can help develop. Give them the ability to upload and manage their own information. Sift, approve and promote only what suits your students, ensuring you offer the highest quality opportunities from reputable organisations.
Allow students to register and list skills they want to develop for themselves. Match them more effectively with organisations offering what they're after. Utilise the tool's capacity for students to record their own time and evidence skills (if it suits your Union) to help them stand out from the crowd.
Because one tool manages all of this, you can reduce the amount of time and resource it takes to give your students the very best development opportunities.
Reporting & Analytics
Run reports on every aspect of your Union's digital performance
Produce post-activity charts, real-time statistics and shape dynamic KPIs on events, communications, engagement, sales - your institution's entire online activity.
Compare different datasets. Dig deeper into analysis with the ability to view demographic breakdowns. Report overall results or set specific parameters. Use your data. Bring it together in a meaningful way to easily and quickly make the bigger picture clearer.
Eshop
Generate revenue by selling to your members with ease
Sell products, memberships and tickets online simply with the Eshop module. Sell merchandise, generate and record sales all in a smooth and simple way. Manage product categories, orders, promotions, sales, shipping charges and more in one place.
When it comes to selling memberships, product and tickets, set up an online shop and open up a world of retail opportunities.
API & Single Sign On
use our powerful API to manage all the data that sits within the platform
You can use the API to transfer student data automatically to ensure full GDPR compliance. In addition, we can implement Single Sign On to make student sign in extremely simple, increasing engagement with things like elections.
Or use it to pull off events and groups into your own custom design, the power is in your hands!
The UnionCloud Community
We're proud to work with many communities, here are a few. If you're a customer and would like to be featured let us know!
Partners we are proud to work with…
Interested? Let's discuss your digital strategy
Drop us your details and we'll get in touch with more information or to setup a demo. We'd love to have you onboard.